It comes around once a year and fills your brain for months at a time. Your child's birthday, their special day that they think about all year long. You think about it for months, asking yourself what you should do to celebrate. This answer varies vastly between families, but one thing stays consistent, you want it to be memorable and for everyone involved to have fun whilst celebrating your special little kiddo.
So, what do you do? Do you host your party at your house, with the idea of being able to invite as many people as you'd like, save money, and run it exactly how you'd like? However, while this option seems ideal, you are now in charge of everything. Cleaning before and after the party, coming up with games and activities, possibly even hiring some sort of entertainment to keep everyone sane, food, cake, drinks, decorations, and party favors and so on and so on. Or, do you book your party at a venue to avoid some of those hassles? However, with this option, you often run into the problem of limited guests at a much higher cost for entertainment. What a dilemma.
There is a 3rd option though. An option that can be cost-effective, allows you to invite the whole class and allow you to theme your party and run it however you'd like. The best part is, we do all the cleaning and you don't have to clean a single thing. Sounds too good to be true, right? False, not too good to be true, just true enough for everyone to also have a great time and remember for years to come… What is this place I talk so highly of? It's Monkey Bizness, the place where kids can truly monkey around, parents can relax and enjoy their time, and birthday memories will be made. Don't believe me, take a look at this infographic with some facts.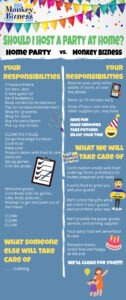 The fact of the matter is, you CAN have everything you want and not have to have your birthday party at home. You can have it at Monkey Bizness. Your birthday party experts since 2004.