by Ashley Myers
Recently, my husband and I decided to make a fairly large lifestyle change for our family. We moved our little family of 4 from a perfectly nice 2,000 square foot home into an adorably perfect 800 square foot apartment.  We liquidated our assets that we felt we did not need and kept the basics. While doing so, we had to tackle the black hole of a playroom our kids would get lost in on a daily basis. At first glance we didn't think it would be too hard, then about 1/3 of the way through we realized we poorly underestimated our quest and realized even more, why we were making this change in our lives. Our kids, on a good day, would touch about 10% of these toys and probably thoroughly enjoyed playing with only about 5% of them, hence the massive purge. This stark realization of what our new tiny home could end up looking like had us thinking about the holidays, birthdays and any other day that may entail a new toy or gift. Our solution was to devise a list of non-toy gift ideas to share with our family and to utilize ourselves.
So here is my creative list of non-toy gift ideas that any kid would love to receive, and any parent would love because it's not adding to the black abyss they call a toy room.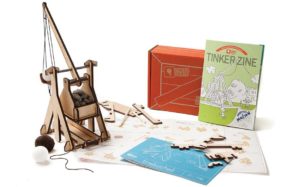 Subscriptions – these can work for a lot of ages. For younger kiddos, you could sign up for a monthly subscription of National Geographic for Kids or Highlights Magazine. They can learn about the world, work their growing brains and practice reading. For older kids, you can subscribe to a magazine or even a subscription box like Little Passports or Tinker Crate.
Zoo Passes – surprise them admission passes to the zoo. To make it a little more exciting than just paper in an envelope, pair it with a good book about the animals they may see at the zoo. You could also attach some binoculars to the gift to enhance the sense of adventure.
Movie Tickets – give them a date night out with mom and dad. Movie passes almost never expire so you can use them anytime of the year, allowing you to wait it out for a movie that you're anxious to see. If they're little, maybe get them a stuffed animal of the character in the film you're going to go see too to give them something to look forward to. If they're older, see if the movie you're seeing was first a book, then get them the book and put movie tickets inside.
Pampering Kit – you can make this fun for all ages. For older girls put together a gift basket filled with nail polish, face masks and bath bombs for them to enjoy. For younger girls you can put together a little basket of nail polish, hair ties, headbands, fuzzy socks and maybe a robe or soft blanket. Everyone likes to pamper themselves every once and while.
5. Pool Kit – Give them something to look forward to this summer. Put together a great pool kit filled with their character towels,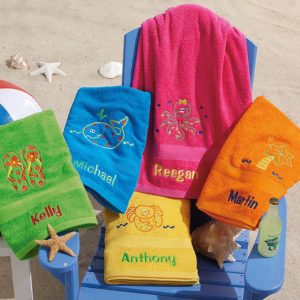 or monogrammed towels would be fun. New swimsuits or gift cards to get a new suit when it's in season. Don't forget a new hat, sunscreen, toys and fun gadgets for a day by the pool.
Museum Passes – Get creative with this one. There are usually so many museums in every city, choose one you have never been to before. Pair the tickets with a good book or even create a scavenger hunt to go on while at the museum. A fun, interactive map might be all you need to make the trip extra exciting.
Watches – Kids of all ages, for some reason, love watches. Whether they are toddlers and you get them a potty watch, elementary and you get them a beginner's smart watch or get an actual smart watch for the older kids who can handle some responsibility. Either way, watches are a great gift for kids of all ages.
Arts & Crafts – Enjoy a trip to the local pottery painting shop and let them choose something they want to paint and create. If they're a little older, take them to a canvas and cocktails type place. They welcome families of all ages and have kid friendly paintings you can always choose from. While doing this, make it a date night, have dinner-get creative in art class-then grab some dessert to finish the night.
Socks – A basket full of fun, goofy socks are sure to thrill any aged child.
Calendar – fill a calendar for the coming year of events and little activities to do. Allowing them to look forward to something and count down the days to an event or date night out with mom and dad. You could even go fancy and get a custom calendar printed from vista print and fill in the days on there with custom pictures.
Play Place – admission passes to local indoor play places like Monkey Bizness is a great gift to be able to utilize all year round. Great gift from grandparents to have a date with their grandchildren too.
All of these options can have so many other meanings and hidden learning curves to them. Look at ways to incorporate learning to everything, whether it is practicing time, learning numbers or letters, or about new animals and new places; Go on an adventure and spend time together.